Custom Plastic Injection Molding
We are experts at prototyping new concepts, improving manufacturability of existing designs, and designing for improved manufacturability and down-line savings.
We have the capability to take anything from a napkin sketch to solid models and detailed drawings, and turn around high quality plastic injection molded parts that are designed to optimize cost, weight, manufacturability, ergonomics, and performance.
At Ciro, our goal is to create a design that is manufacturable and meets your expectations. Getting us involved in the early stages of the product design ensures you the success you should expect from your manufacturing partner.
As a plastic manufacturer, we work in diversified fields such as life sciences, molecular biology, sample preparation, genomics, chromatography, biomedical, clinical research and forensic applications.  Not only can you choose from the current products listed here, but we can also work together to design, mold, and manufacture a new product with you.
Our engineering and design staff will guide you through the process from design, molding, sampling, assembly, automation, and production. Contact us immediately to get started.  We have in house mold making capabilities and as well injection molding to provide our customers with lower costs and quicker turnaround.
In-house Tooling
We have a unique advantage that sets us apart from the standard injection molding manufacturer.  We have on-site tool and die manufacturing allowing us to reduce turnaround time on new production. Our goal to obtain maximum production, minimum cycle time and prolonged mold life is accomplished in one simple process.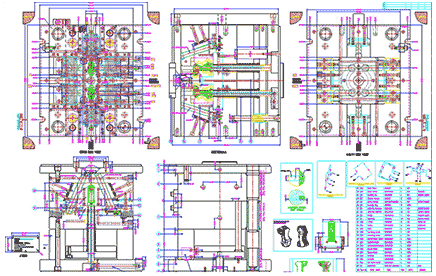 CNC Mills
EDMs
Lathes
Care & Maintenance of existing molds
Versatile mold bases to reduce costs
Interchangeable cavities
Various Types of Prototyping
The result is a mold that effectively withstands the rigorous demands of high-pressure injection molding.
Precision Component Manufacturing
Ciro also provides you with expert component manufacturing. From inspiration to completion, we assist you in creating a variety of devices in an assortment of materials.
Depending on your needs, we work with a wide variety of materials to manufacture the product you require. Providing our services to all industries, we are experienced in creating computer parts, medical devices, and adept in manufacturing labware, with the ability to create virtually any component. 
When exploring new product development, we assist in taking your idea from the drawing board to the level of complete production with the skills of our expert technicians. We are familiar in working with an array of materials including:
ABS
Polycarbonate
Nylon
Delrin
HDPE
Polypropylene
Acrylic
PVC
Brass
Copper
Mild Steel
Magnesium
Foam
Stainless Steel
Ren
POM (Acetol)
Aluminum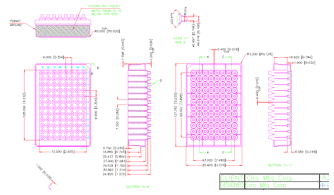 We offer a full range of mold creation and CNC services. From initial product design to full scale production of your finished product, we are your source. Your product idea can become reality. Our OEM relationships remain for years and we work closely together on new and confidential projects. We also work with resins and slurries. We are comfortable with confidentiality agreements and with tight schedules. As a small company, we are flexible and quick to provide drawings, quotes, and new molded samples. We typically can provide samples from a new mold within 30 days.
For new molds and product ideas, consider the following:
Low-lead times for molds, typically 30 days from drawing approval
Flexible and efficient staff to meet small and large quantity demands
Quick Quotes: Email your 3D CAD data, define your project specs and a custom quote will be presented in 48 hours or less.
Capabilities:  In-house mold making, injection molding, cleanroom assembly, private label.
Faster Time-to-market: With in-house capabilities product can be fully assembled and shipped directly.
Quality Customer Service:  Dedicated Project Managers to help you during the whole process.
Trust and confidentiality
Additional services: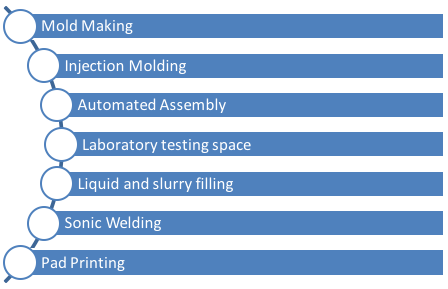 On site:
Mold Making
Injection molding
Development of automated assembly
Laboratory space for product testing
Liquid and slurry filling
Sonic Welding
Pad Printing