Precision Component Manufacturing
Ciro provides you with expert component manufacturing. From inspiration to completion, we assist you in creating a variety of devices in an assortment of materials.
Depending on your needs, we work with a wide variety of materials to manufacture the product you require. Providing our services to all industries, we are experienced in creating industrial parts, medical devices, and experts in manufacturing labware, with the ability to create virtually any component.
When exploring new product development, we assist in taking your idea from the drawing board to the level of complete production with the skills of our expert technicians. We are familiar in working with an array of materials including:
ABS
Polycarbonate
Nylon
Delrin
HDPE
Polypropylene
Acrylic
PVC
Brass
Copper
Mild Steel
Magnesium
Foam
Stainless Steel
Ren
POM (Acetol)
Aluminum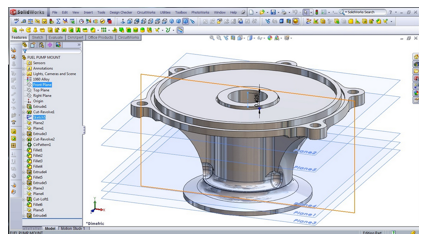 Our CNC work is built around a practice that translates your CAD design and renders data to high end CNC machines. This technology streamlines inefficiencies in the established CNC machining process. The process will produce parts that can replace the additive manufactured prototypes with true production grade materials. This method allows you to build your parts in the featured material that you intend for use in production.
Whether for rapid prototypes or production parts, Ciro has the right CNC machining options for both your metal and plastic part needs.
CNC machining is the best choice for rapid prototyping of high-quality metal and plastic parts requiring the greatest degree of dimensional accuracy, critical surface finishes, material-specific properties, and for parts that are too large for additive prototyping processes.
CNC machining is a subtractive manufacturing process by which material is cut away from the source to create a finished component.
Subtractive manufacturing is a production manufacturing process that allows you to prototype to the exact specifications found in a production environment. However, the designs are more restrictive than what can be produced in a rapid prototyping process.
We offer a full range of mold creation and CNC services.  From initial product design to full scale production of your finished product, we are your source.  Your product idea can become reality.  Our OEM relationships remain for years and we work closely together on new and confidential projects.  We also work with resins and slurries.  We are comfortable with confidentiality agreements and with tight schedules.  As a small company, we are flexible and quick to provide drawings, quotes, and samples. 
Advantages to selecting Ciro:
We have a unique advantage that sets us apart from the standard injection molding manufacturer.  We have on-site tool and die manufacturing allowing us to reduce turnaround time on new production. Our goal to obtain maximum production, minimum cycle time and prolonged mold life is accomplished in one simple process.
CNC Machining Quotes: Email your 3D CAD data, define your project specs and a custom quote will be presented in 24 hours or less.
Capabilities:  Turning, Dual Turret Lathe with Live Tooling, 3, 4, and 5 Axis Machining, Heat Treating/Stress Relieving, Welding, Anodizing, and Powder Coating.
Faster Time-to-market:  CNC Machined Parts in as little as 6-8 business days, depending on geometry.
Quality Customer Service:  Dedicated Project Managers to help you during the whole process.